Posts for: June, 2019
By Art of Dentistry
June 20, 2019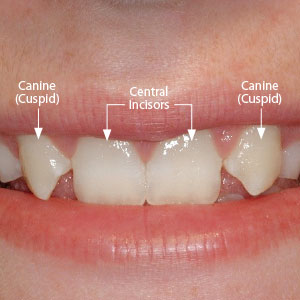 Most children's permanent teeth erupt on a fairly predictable schedule. Sometimes, though, one or more teeth might not develop as they should — or at all.
These absent teeth pose functional problems for chewing and hygiene, which can affect long-term dental health. But they can also have a disruptive effect on an otherwise attractive smile if the missing teeth are the upper lateral incisors in the most visible part of the smile.
You normally find this pair of teeth on either side of the upper central incisors (the two front-most teeth). On the other side of the lateral incisors are the canine or eye teeth, known for their pointed appearance. Without the lateral incisors, the canines tend to drift into the space next to the central incisors. This can produce an odd appearance even a layperson will notice: only four teeth where there should be six!
It's possible to correct this abnormality, but it will take time and expense. The first step is usually to move the teeth in the upper jaw with braces to their correct position. This puts teeth where they should be and also opens space between the canines and central incisors so we can eventually replace the missing teeth with dental implants.
But the key to all this is timing. It's usually appropriate to undertake tooth movement with braces during late childhood or adolescence. But implants shouldn't be installed until the person's jaw fully matures, usually in early adulthood. An implant placed before then could eventually become misaligned.
To accommodate the time between bite correction and implant placement, the patient can wear a retainer appliance that will keep the newly created space open. We can also attach artificial teeth to the retainer to camouflage the empty space.
It usually takes a team of a family dentist, an orthodontist and a surgeon to see this kind of "smile makeover" project through, possibly over several years. But the gains in better aesthetics and health are well worth the time and expense.
If you would like more information on replacing non-developing teeth, please contact us or schedule an appointment for a consultation. You can also learn more about this topic by reading the Dear Doctor magazine article "When Permanent Teeth Don't Grow."
By Art of Dentistry
June 10, 2019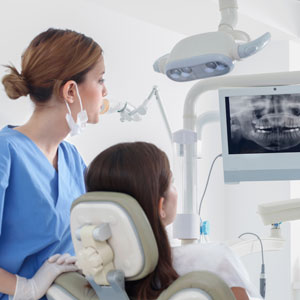 Although cancer treatment has advanced steadily in recent decades, the most used therapies continue to be radiation and chemotherapy to eradicate cancerous cells. And while they often work, both can cause "collateral damage" in healthy tissues near the targeted cells.
This can create a number of indirect consequences for a patient's health, including in the mouth. The salivary glands, for example, can be damaged by radiation treatments aimed at the head or neck. The effect on these glands can interrupt the normal flow of saliva and cause xerostomia or "dry mouth."
Lack of adequate saliva causes more than an unpleasant, sticky mouth feeling. One of saliva's main functions is to neutralize acid that builds up naturally after eating. Without it, high acid levels can cause enamel and root surface erosion and lead to tooth decay.
Cancer treatment can also contribute to gastro-esophageal reflux disease (GERD). This disease causes stomach acid to bypass the natural tissue barriers of the esophagus and enter the mouth. As with dry mouth, the increased acid level from GERD can be just as devastating to enamel—and the damage will be permanent.
To minimize these effects on your dental health, it's important to take proactive steps before, during and after cancer treatment. If at all possible, have any needed dental work performed before you begin radiation or chemotherapy—it's better to start it with teeth and gums as healthy as possible.
During treatment, try to continue regular dental visits to monitor your oral health and receive any needed preventive or therapeutic treatments. Depending on your condition and the advice of your dentist, you may need to increase your visit frequency during this time. Your dentist can help with boosting your saliva production and strengthening your tooth enamel. But you should also practice daily brushing and flossing, drink plenty of water and seek treatment for any resulting GERD symptoms.
Even with the best efforts, though, your teeth and gums may still incur damage while treating your cancer. Fortunately, there are a wide array of materials and procedures that can effectively restore them to health. So, once your treatments are completed consult with a dentist on your options for improving the health and appearance of your teeth and gums.
If you would like more information on caring for your teeth while undergoing intensive medical treatment, please contact us or schedule an appointment for a consultation.